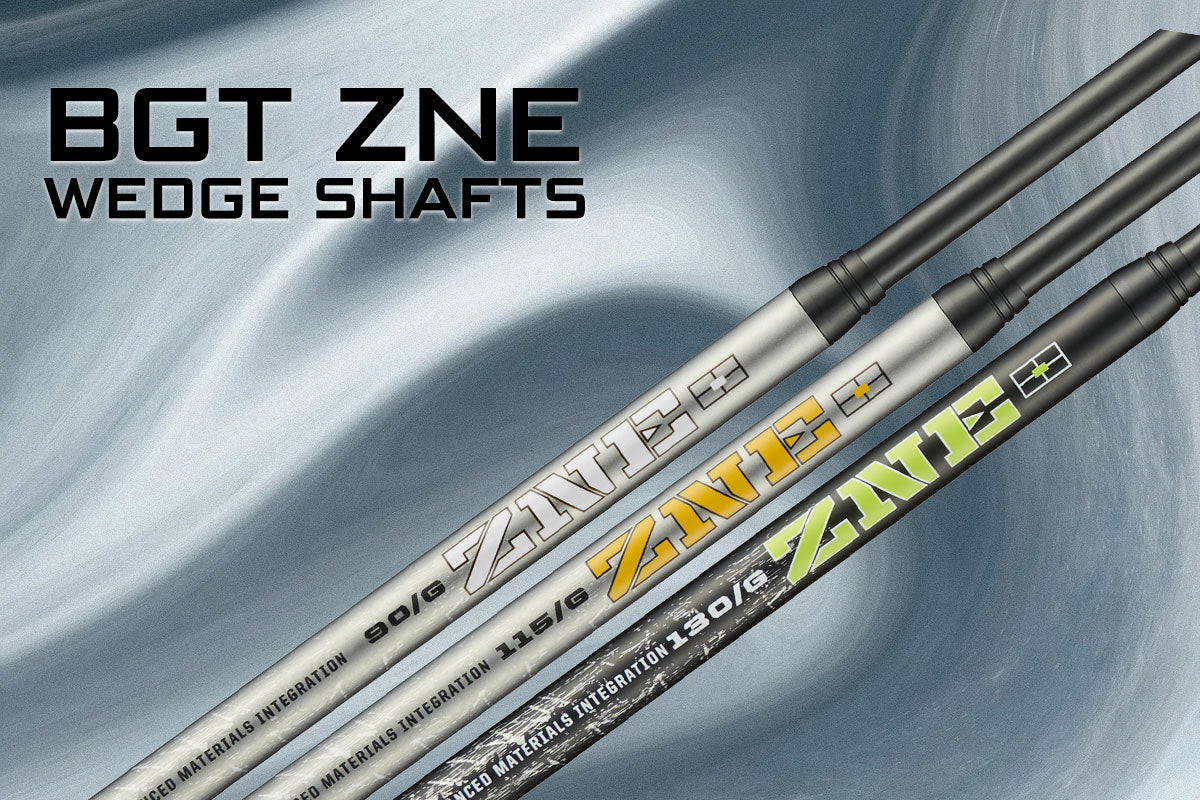 The BGT ZNE Wedge Shafts are now available for purchase at Tour Spin Golf.  Since launching these a few months again the ZNE have surpassed all expectations and have received extremely favouable reviews from some of the industries most trusted sources. The new ZNE 2–piece Wedge Shafts are designed with Advanced Materials Integration which delivers the face square at impact for more center strikes and lower scores.
Versatility & Shot Performance
3 weights –  90 gm, 115 gm or 130 gm for optimal feel, control and consistency.
Black Ceramic Dura-Coated Tips
Provides durability and no line of sight distraction. Engineered for optimal launch and spin.
Proprietary Coupler
Designed with internal micro-barbs to ensure a virtually unbreakable bond between graphite and steel.
Testing shows the patented design of the ZNE Wedge Shaft redirects energy so efficiently over steel that:
92% of golfers showed better distance control
Over 90% had tighter dispersion
100% of golfers tested said it felt better than steel
Tested to withstand all types of turf conditions, players and swing speeds
Buy BGT ZNE Wedge shafts in Hong Kong from Tour Spin Golf.  If you're in Malaysia, Singapore, Indonesia, The Philippinnes, Vietnam, Thailand or anywhere else in SE Asia, we can ship from either our Malaysia 3PL Partner or our Thailand 3PL partner in Bangkok. Shipping takes 2-4 days depending on the method you select and if you're in Thailand or Malaysia, we typically arrange for same or next day shipping, Contact Tour Spin Golf via WhatsApp to see the best option to buy the ZNE Wedge Shafts from BGT.
BGT ZNE Wedge Shaft Specs
If you're in the USA, we'll ship from Carlsbad, California and standadrd shipping is via USPS.  If you need the shaft urgently, let us know and we can arrange overnight shipping for additional cost. All our shafts, including BGT ZNE wedgs ehafts are guaranteed 100% genuine. Tour Spin Golf does not sell or condone the selling of any counterfiet goods and we report any sellers who are known to be selling counterfeits.
Buy BGT ZNE Wedge Shafts from Tour Spin Golf.
Check out these review of the ZNE Wedge shaft:
Review of the BGT ZNE Wedge Shaft from MyGolf Spy
Review of the BGT ZNE Wedge Shaft from PluggedinGolf
Videos of the BGT ZNE Wedge Shafts:
Aug 22, 2022

Category:

News
Comments: 0