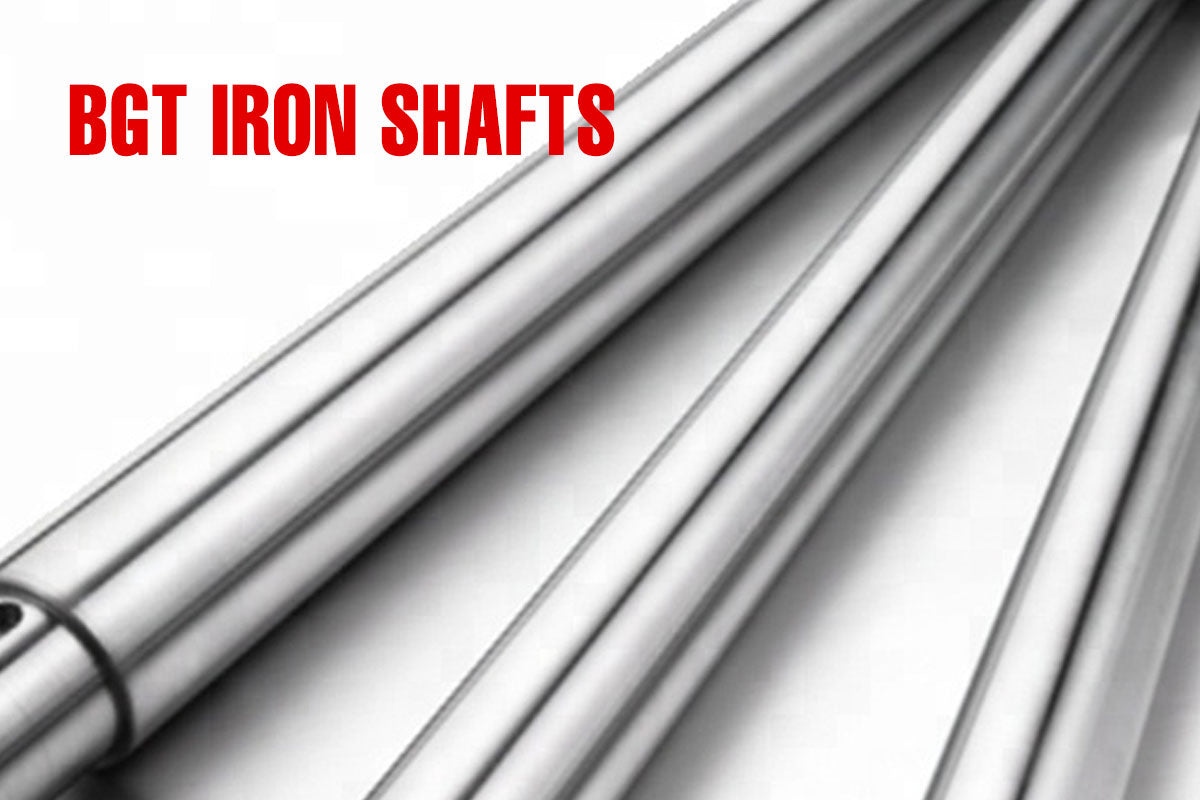 One of the biggest questions in the shaft industry right now is when are the BGT Iron Shafts going to be available, and are there even going to be iron shafts from Breakthrough Golf Technology.  One thing we know for sure is that if there are going to be BGT Iron Shafts, Tour Spin Golf will have all the info here for you.
BGT Wedge Shafts and the BGT Brava Driver Shaft have been two breakthrough (don't excuse the pun) products of 2022 and now the next logical step for BGT (Breakthrough Golf Technology) is to produce an iron shaft. What that iron shaft is going to be is still a secret but we predict that sometime in 2023, BGT will unleash their iron shaft offering and it's going to be huge! We think (and we could be completely wrong) the BGT iron shaft is probably not surprisingly going to be quite similar to the ZNE wedhge shafts have really been hit and taken off in terms of sales this year (2022)
Will the BGT Iron Shaft look anything like their putter shafts?
Here's more about BGT and their history:
A new golf company with 100 years of experience lies in a suburb of Dallas, Texas. Breakthrough Golf's state of the art facility utilizes the latest technology to develop and market the finest, most precise shafts available. Founder Barney Adams has the unique ability to see what is missing in golf equipment. He started with putter shafts since there had been no significant innovation for decades.
After years of research and development and countless hours of testing and perfecting the Stability shaft was developed. tens of millions of dollars are spent annually on golf R&D. They are all chasing the same elusive thing- true technological breakthroughs. Many products don't deliver but some do produce true results.  In fact, we believe that no shaft company on the planet delivers innovation in golf like Breakthrough Golf Technology.
If you'd like to know when the BGT Iron shafts become available, signup to our newsletter deals and news and be the first to try these shafts. We're going to be shipping the BGT Iron Shafts to US customers from our Fulfillment partner located in Carlsbad, CA.  For SE Asia, including Thailand, Singapore, Malaysia, Vietnam, Indonesia, The Philippinnes, Myanmar, and the UAE, we'll be shipping the BGT iron shafts from either Malaysia or Thailand.
Stay tuned for the latest in BGT iron shafts and we'll keep this post updated!
Also BGT SHAFTS will also have these iron shafts so check them out if you haven't already.
Nov 14, 2022

Category:

News
Comments: 0